Green oasis: The new Mövenpick Hotel at Stuttgart Airport
At the beginning of next year, the second Mövenpick Hotel will be opened at this location between Stuttgart Airport and Messe Stuttgart. The focus of the new hotel will be on the congress area, with a 750 square metre ballroom at its heart.
"We see this quarter as a future location with enormous potential," says Hotel Director Jürgen Köhler, who will manage both hotels in future.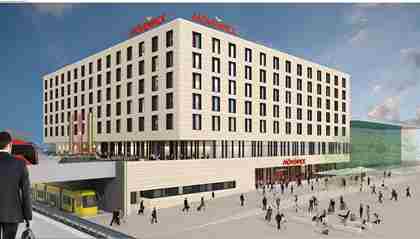 "The location is attractive in many respects"
Mr Köhler, in future there will be two Mövenpick hotels in the immediate vicinity on the airport and trade fair grounds. A novelty in hotel history?
Jürgen Köhler: Such a constellation certainly doesn't exist very often, but it's not a novelty. We have already managed two hotels at the same location for four years, after the new Mövenpick Hotel was opened in October 2007. From this time we know what such a double pack entails and how this challenge can be successfully mastered.
When will the new hotel open?
Jürgen Köhler: After the originally announced date unfortunately had to be postponed, we will now open the hotel at the beginning of January 2020. We are all very much looking forward to this festive day and the addition to the Mövenpick family.
What makes the hotel so special?
Jürgen Köhler: The hotel was designed as a kind of green oasis, a place to relax and unwind. The Italian star architect Matteo Thun has consistently implemented this idea in his entire interior design concept. This begins in the hotel lobby, which invites guests to linger in the form of an atrium. But also everywhere else, in all areas of the hotel, the use of organic materials, natural motifs and colours creates a relaxed atmosphere in the midst of the pulsating environment. The restaurant CIAO and our bar with its spacious summer terrace stand for the culinary standards associated with the name Mövenpick. For events and conferences there are several meeting rooms as well as a light-flooded ballroom with space for 500 guests, which is the heart of the hotel.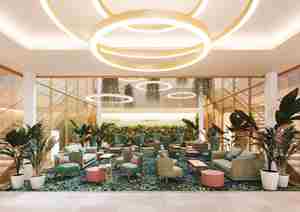 Don't you worry that this beautiful new hotel world will outstrip the neighbouring Mövenpick Hotel Stuttgart Airport?
Jürgen Köhler: No, we don't have that worry at all. First of all, the two hotels will be managed as a single unit, for example in terms of logistics. At the same time, however, there is also a clear separation in terms of profiling and operation. The overall concept is coordinated in such a way that the hotels complement each other and are each tailored to a specific segment. The new hotel's service and offers are aimed in particular at trade fair visitors and congress participants. To make this clear and comprehensible, it also bears the name Mövenpick-Hotel Messe und Kongress.
Are the two hotels comparable in size?
Jürgen Köhler: Our new hotel has 262 rooms, the "old" hotel has a slightly larger capacity with 326 rooms. With a total of almost 600 rooms, we will in future be able to offer our guests a very extensive range of services and are thus able to accommodate a larger number of guests at short notice, for example if a flight is cancelled. And we can offer a huge event area via the two hotels that is unparalleled in the hotel landscape. At a location like this, it is important to be flexible.
But can it also be possible to fill hotels all year round?
Jürgen Köhler: Absolutely. If we hadn't been convinced that we could expect good occupancy rates even with two hotels, we wouldn't have decided to continue operating. We see the Stuttgart Airport City quarter as a future location with enormous potential, which is already a major transhipment centre today and will have even more to offer in the future. Where else can you find such a well-developed traffic hub, which makes it possible, for example, to reach the city centre in a few minutes by public transport. Hardly any other airport is so well connected to the city centre.     
Being fast in the city centre is one thing, but there are also big hotels there. Where do you see the advantages that the quarter itself has to offer?
Jürgen Köhler: With its direct location at the airport, the trade fair and the International Congress Centre ICS, the location is extremely attractive in many respects - for business guests and city travellers alike. It is a location with short distances, which offers all possibilities to reach, for example, the region and the surrounding area with its many offers. I am thinking, for example, of the Outletcity Metzingen, which can be reached from the hotel by shuttle bus in half an hour. Even on the Swabian Alb, one is from here in a short time. And also small towns like Tübingen, Reutlingen or Nürtingen are in the immediate vicinity. These are all possibilities that our guests also appreciate. In return, many people from the surrounding area come to our restaurant, which is always very well frequented. Among them are regular guests who have been visiting us for over 35 years and the time of the very first Mövenpick Hotel.
That speaks for the popularity of the hotel....
Jürgen Köhler: Since the Mövenpick opened twelve years ago, it has been number one on the guest rating scale among all the almost 150 hotels in the city. And within the Mövenpick world, our hotel also ranks first in the popularity ranking, in competition with hotels in Dubai, Jordan and elsewhere. Of course we are a little bit proud of this, but at the same time it motivates us to maintain this position in the future.
Are you betraying the secret recipe behind the ranking?
Jürgen Köhler: First of all, the entire package has to be right, from reception and room service to the restaurant and the kitchen. But I think that the atmosphere, the interaction with each other and with the guests, makes a big difference. If the employees feel at ease, then that also reaches the guests. One of our chefs has been with the company for 43 years, on average our employees stay here for more than nine years. That's a very long time in this industry, so they seem to like it with us. If there is a secret recipe, then good contact with each other is one of the most important ingredients. We nurture and cultivate this feel-good atmosphere.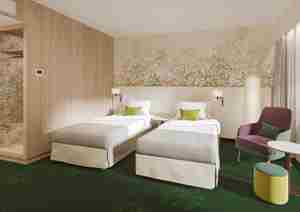 Info Box
TO THE PERSON:
Jürgen Köhler (born in 1957) first trained as a chef, then went on to further train as a hotel manager and chef at the Hotel Management School in Heidelberg. After numerous positions in various hotels and stays abroad, he took over the management position at the Mövenpick Hotel Bielefeld and later at the Mövenpick Hotel Stuttgart Messe, which he has managed since 1997. In the meantime, as Director of Operations, he is responsible for all Mövenpick hotels in Germany. Köhler is also a member of the board of DEHOGA Baden-Württemberg, a consultant at the DEHOGA Academy as well as at secondary schools and grammar schools and an honorary judge at the Stuttgart Labour Court. He is also involved in social projects such as the Vesperkirche Stuttgart or the Förderverein für krebskranke Kinder Tübingen e.V. Jürgen Köhler is married and has two children.
TO THE HOTELS:
Mövenpick Hotel Stuttgart Airport
Opened: 2007
Category: 4 Stars Superior
Target groups: Business travellers, trade fair exhibitors and visitors, event and congress guests, groups, incentives, books from the pharmaceutical industry, airlines, individual travellers, leisure travellers
Cooperation: Main cooperations: Stuttgart Exhibition Centre, Stuttgart Airport, Stuttgart Marketing
Facilities: 326 rooms, 16 event rooms, restaurant Trollinger, message café & bar, fitness and wellness area

Mövenpick Hotel Stuttgart Fair & Congress
Opened: Opening January 2020
Category: 4 stars
Target groups: Business travellers, trade fair exhibitors and visitors, event and congress guests, groups, incentives, books from the pharmaceutical industry, airlines, individual travellers, leisure travellers
Cooperation: Main cooperations: Stuttgart Exhibition Centre, Stuttgart Airport, Stuttgart Marketing
Facilities: 262 rooms, 8 event rooms, restaurant | Bar CIAO, summer terrace with a view of the Messepiazza, fitness and wellness area
---
This might also interest you