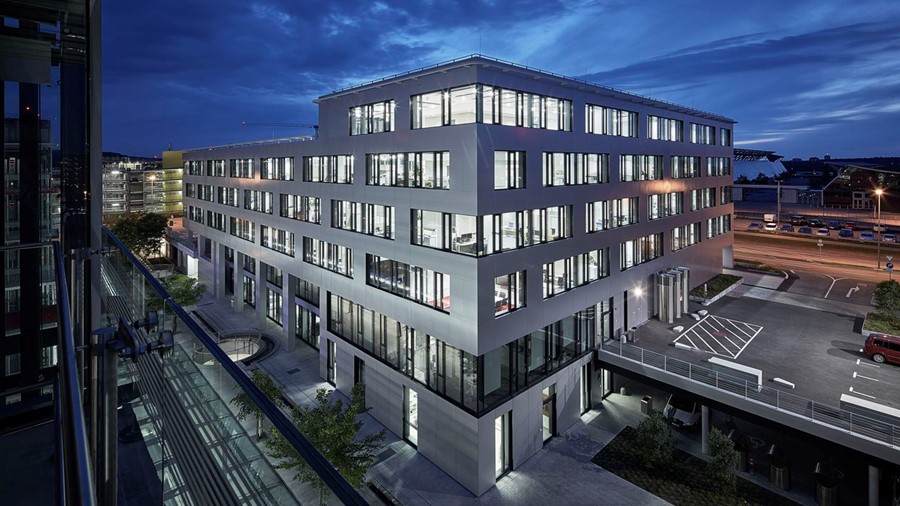 Sustainability and modernity in a prime location
The SkyPort is an office building of the latest generation. It's spacious, striking and prestigious on the outside and spacious, open and flexible on the inside. This property combines outstanding energy efficiency with all the amenities of a modern and stylishly designed office building.
From its design to its completion, the SkyPort is sustainable in every respect and continues to be maintained in an equally environmentally friendly manner. Completed in 2016, the office building had already received the DGNB* Gold Award during its planning phase due to its overall innovative architectural concept.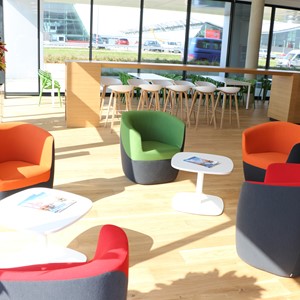 Versatile office landscape
FLEXIBILITY
In SkyPort, the office landscape can be optimally adapted to the requirements of the users.
Broadband Internet connection
HIGH TRANSFER RATES
Depending on the provider, short-term data transfer rates of up to 10 Gbits/s are possible.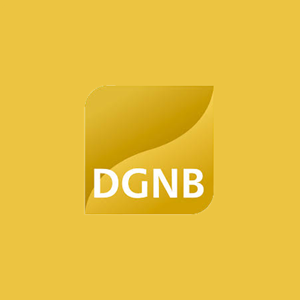 Excellent sustainability
GOLD CERTIFICATION
The SkyPort building has been awarded the highest distinction by the German Sustainable Building Council (DGNB e.V.).
Superb office property in a prominent location
The office building is located 500 m west of the terminal facilities of Stuttgart Airport. The P2 multi-storey car park also lies to the west and the SkyOffice office building to the east.
The SkyPort has a prominent location and is in direct view of traffic that is coming from Stuttgart. The impressive main entrance with forecourt and driveway also opens in this direction.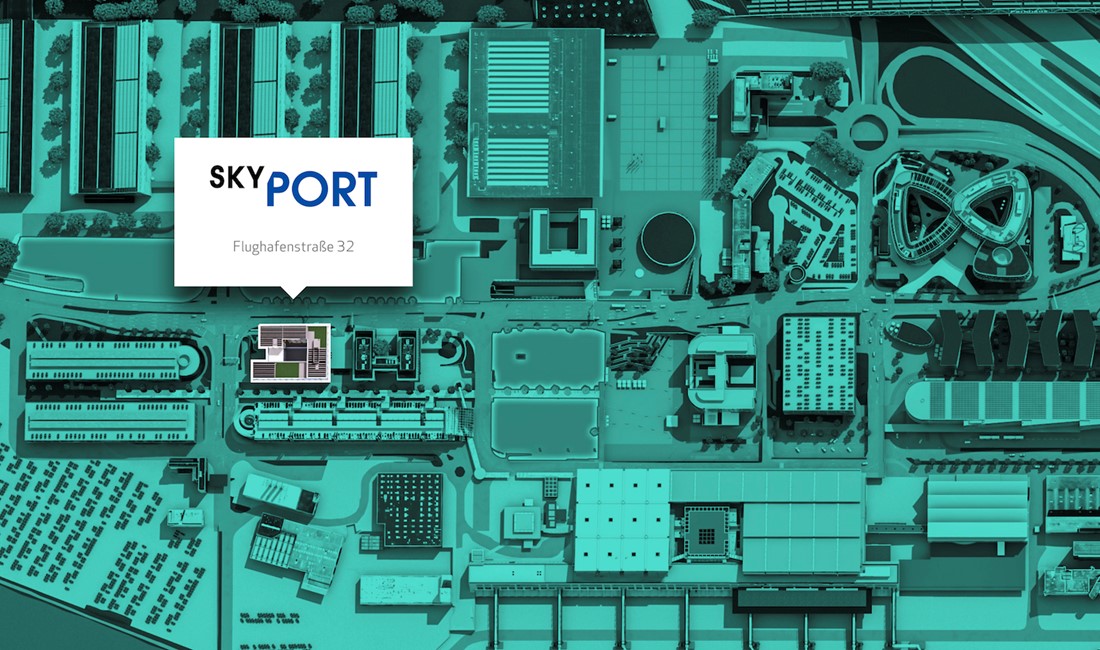 Architecture: sustainability meets elegance
The SkyPort was developed according to the latest architectural and ecological standards. Facing west, the main entrance and atrium lobby form a transparent seam and provide the building with lots of natural light.
The generous lobby is distinctive entrance to the building on the west and features an atrium covering four floors with a spacious reception and seating area. Grand pieces of light art in the forecourt of the building, lobby and the inner courtyard make the entrance area something exceptional.
The mezzanine 4th and 5th floors are an architectural highlight and give the building unique character.
The main and side entrances have a bell system with call station and video camera; access control readers are also installed at the entrances. Access from the stairwells to the individual units is also secured by a contactless access control reader.
The access control software is multi-client capable. The access concept includes a manned reception area.
The office building is designed as a reinforced concrete skeleton structure with a construction grid of 5.00 m and 7.50 m. All roofs were designed as flat roofs, levels 4, 7 and 8 are partially covered with extensive green roofs.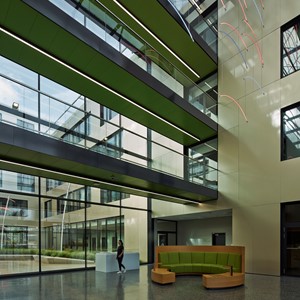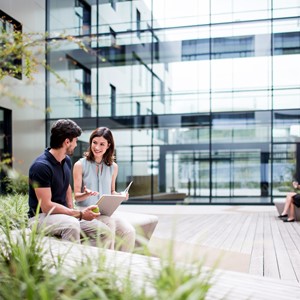 The equipment: High-quality and permanently variable
Self-confident architecture for a modern working culture in a prestigious office building. This is where flexibility becomes added value for companies: Furniture and room divisions can be individually adapted to individual employees or teams at any time.
Open office solutions, group and individual offices, retreat areas, think tanks, meeting rooms, informal meeting points, seminar and training rooms, as well as a large conference area and meeting point on the ground floor keep all options open. And the atrium in the center of the building provides the floors with plenty of light for a bright and friendly atmosphere.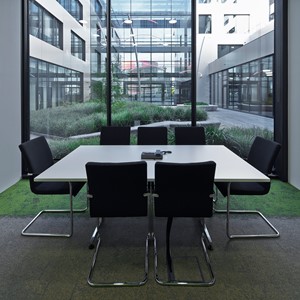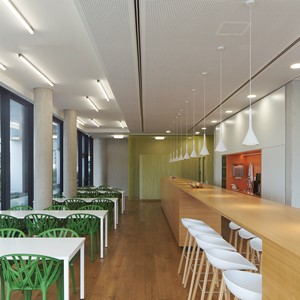 The building structure with a window grid of 1.50 m allows maximum freedom in room layout. Both individual rooms and open structures are possible. In addition to the basic equipment, user wishes can also be taken into account in the individual fit out. The high-quality finishing standard provides for the following:
Non-load-bearing plasterboard/stud partitioning walls, double planked, spackled and painted
Flat slab ceilings made of reinforced concrete, levelled and painted
Acoustically and thermally effective ceiling sails incl. downlights along the facade
Carpet tiles
Simple and flexible data cabling thanks to raised double floor
Window elements can be partly opened
Basic temperature control through concrete core activation
Mechanical fresh air supply with efficient heat recovery systems
SkyPort at a glance: Facts & figures
Address
Flughafenstraße 32
70629 Stuttgart
| | |
| --- | --- |
| Location | Stuttgart Airport City |
| | |
| --- | --- |
| Property type | Office building |
| | |
| --- | --- |
| Property status | New building |
| | |
| --- | --- |
| Local subdistrict | Leinfelden-Echterdingen |
| | |
| --- | --- |
| Trade tax | Tax assessment rate |
| | |
| --- | --- |
| Energy certificate | present |
Tenant
Porsche Consulting GmbH
Breyer Rechtsanwälte
Hübner Friz Rechtsanwaltsgesellschaft mbH
Flughafen Stuttgart GmbH (Eigentümer und Hauptnutzer)
Number of floors
2 mezzanine floors (level 7- 8)
4 full floors (levels 3-6)
1 basement (levels 2)
Area (gross floor area)
Above ground: 11.950 m²
Underground: 1.791 m²
Total: 13.741 m²
Total rental space
Office: 10.882 m²
Storage: 832 m²
Parking total
57 parking spaces in level 2
30 parking spaces in the parking garage P4 on level 1
| | |
| --- | --- |
| Free rental space | on request |
| | |
| --- | --- |
| Free parking space | on request |
| | |
| --- | --- |
| Start of construction | March 2014 |
| | |
| --- | --- |
| Move-in date | February 2016 |
Architect
asp Arat Schust GmbH & Co. KG
Cem Arat I Karsten Schust I Architekten BDA
Talstraße 41, 701881 Stuttgart
Builder-owner
Flughafen Stuttgart GmbH
Flughafenstraße 32, 70629 Stuttgart
www.stuttgart-airport.com
The attractive properties of Stuttgart Airport City
Stuttgart Airport City offers more space for the future of your company--from modern and prestigious office buildings to warehouse and logistics space and attractive areas for potential development. Discover the other properties at Stuttgart Airport City.
Weitere Objektinfos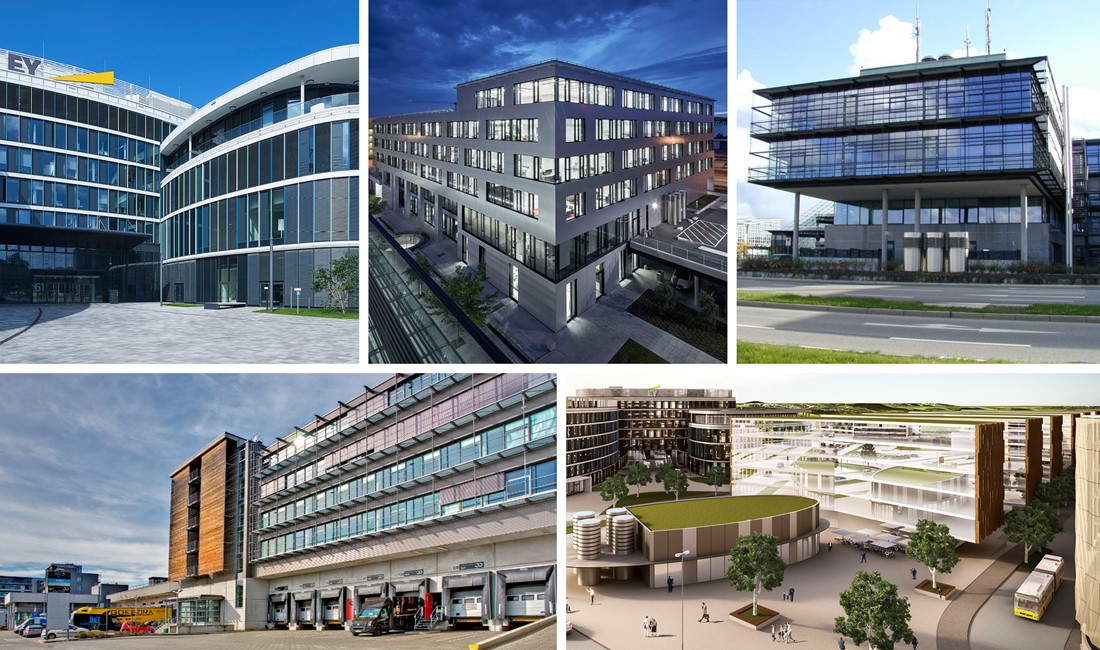 Top location at the gateway to the world
Accessibility and flexibility are decisive success factors: set the future course of your company at Stuttgart Airport City.
Find out more about Stuttgart Airport City, the office location for global business.
MEHR ZUM STANDORT