Large cities in transition
An ever increasing amount of space is needed for living in the metropolises of Germany. As a result, less space is available for office quarters. Above all, modern office parks with excellent connections to conurbations offer potential for development. One example is the new Stuttgart Airport City business park.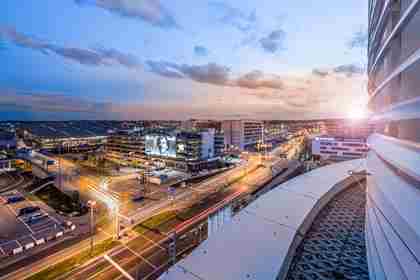 The major cities and metropolises in Germany are experiencing a sustainable renaissance. Just a few years ago, a little house in the countryside was the dream of many people; today people prefer to move back to the big cities. According to a study by the Vienna Institute of Demography on internal migration in Germany, young people, in particular, are leaving rural regions. At the same time, the metropolises are increasingly attractive for families.
Urban researchers and other demography experts see a continuing trend in the renaissance of metropolises and forecast a sharp rise in population figures for cities such as Munich, Frankfurt, Berlin, Hamburg and Stuttgart in 2030. This will have considerable consequences for the housing market and infrastructure. Even today, living space in conurbations is scarce and expensive, and the trend is set to continue.
According to the findings of a housing market analysis conducted by the renowned Pestel Institute, 8,000 new apartments would have to be built every year in the state capital of Baden-Württemberg alone to keep pace with demand. Population development is not simply a result of classic urban expansion i.e. the construction of new housing estates on the outskirts of cities. Areas in the inner-city that are no longer needed for existing use are increasingly being allocated for new living quarters.
One example is the planned Rosenstein Quarter at Stuttgart central station. In the course of the Stuttgart 21 railway project, the dismantling of the tracks will free up an area of almost one hundred hectares to be used for urban and residential development. A further example is the planned relocation of Allianz Deutschland AG and Allianz Lebensversicherungs AG which plans to move its head office with 4000 employees from the Stuttgart city center to the Filder because of space. The discussion about the use of the vacated buildings after the move has already begun. 
On the one hand, more and more living space is needed in conurbations and metropolises. On the other, attractive jobs, good infrastructure and a high degree of sustainable mobility are required to secure growth and compete with other locations. Only prospering cities will be able to compensate for demographic developments and attract new and young skilled workers. Since there is less and less development potential in the inner cities themselves due to the limited space available, the future lies in modern business districts that are well connected to the conurbations and unite all the advantages.
One example of this is the Stuttgart Airport City business park, which will only be eight minutes by train from Stuttgart city center following the commissioning of the new Stuttgart 21 underground station and the new line to Ulm. The new area is optimally connected via an intermodal traffic hub and can be easily reached, for example, if a traffic ban is imposed in Stuttgart city center due to a fine dust alarm. As opposed to other areas, Stuttgart Airport City is serviced by all modes of public transport. A clear locational advantage.
According to forecasts for the future, economic activities in conurbations will increasingly shift to such modern and sustainable quarters that offer ideal framework conditions and sufficient space for development potential. More and more companies are giving up their locations in the city center in order to consolidate them centrally at a strategically favourable location. This, too, is a trend supported by the renaissance of large cities. In return, the move will free up urban living space, which is urgently needed by young professionals and families. The various companies and sectors in a quarter like Stuttgart Airport City also benefit from each other and from a much more efficient infrastructure designed to the latest standards. The United Nations predicts that by 2050 more than 70 percent of the world's population will be living in the large metropolises and sufficient space is required. People will work in modern quarters such as the Stuttgart Airport City which was developed with the future in mind.
---
This might also interest you