Interview: "A strategically favorable location"
A current study by Prognos AG shows that the Stuttgart region and its airport and new traffic hub are moving to a central position on the so-called technology axis south as a result of the expansion of the infrastructure. An interview with Tobias Koch about the economic significance of this corridor and the advantages of the new Stuttgart Airport City business park.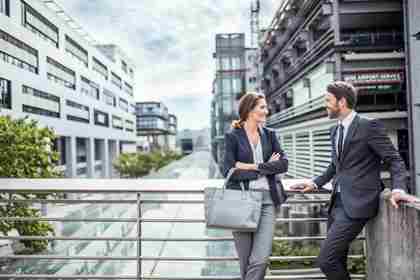 Mr. Koch, in a study you examined the economic significance of the corridor from Karlsruhe via Stuttgart to Munich and on to the southeast. What is the central finding?
Tobias Koch: That important technology locations have established themselves along this southern German rail and transport axis. Part of the trans-European Paris-Vienna-Budapest magistral, the corridor bundles economic and innovative power to an extent rarely found in any other European region. The cities and districts along Technology Axis South are connected not only by common infrastructure and transport routes, but also by their leading economic position in Germany and Europe.
What exactly does the term Technology Axis South mean?
Tobias Koch: This refers to the area between Karlsruhe, Stuttgart, Ulm, Augsburg, Munich and the Bavarian Chemical Triangle. The study clearly shows that the area is developed to an above-average degree and at the same time extremely technology-oriented. The term Technology Axis South is therefore ideally suited to become the new trademark of this space and a central part of its self-image.  
What evidence do you have?
Tobias Koch: There are many indicators for this. First of all, 9.65 million people live in this highly dense corridor; this represents almost twelve percent of the population and more than the whole of Austria. We have 41 cities and administrative districts in which 17 percent of the tax revenue and one seventh of the German gross value added is generated. It is striking that research and development, in particular, are disproportionately represented. In the Stuttgart and Munich regions alone, 40,000 employees work in this sector. Other technology indicators, such as the percentage of engineers or IT specialists, are just as significant. Or take the patent figures. Almost one third of all German patents are filed along this axis, that's two and a half times the German average.
How important is the current expansion of the infrastructure for the future of this technology axis, keyword "railway project Stuttgart-Ulm"?
Tobias Koch: The new Stuttgart railway junction, the airport railway station and the new line to Ulm are an enormously important and central component of the urgently needed expansion of the magistral. All connected routes benefit from the reduced travel time associated with the new line. This increases the efficiency of the corridor. The cities are moving closer together and also closer to the southern German hub on the Fildern with regional traffic, long-distance traffic, motorway and airport. But some other sections still need to be accelerated as well. ICE long-distance traffic ends somewhere in Zuffenhausen. From there, we move on the former Swabian railway.  
With this in mind, how do you, as a regional economist and real estate developer, assess the location of the new Stuttgart Airport City business park which is directly at the aforementioned hub?
Tobias Koch: With the new infrastructure and the connection to the magistrale, Stuttgart will take over a more central location in southern Germany compared to Munich. For a business park like Stuttgart Airport City, this means developing into an attractive and ideal business hub in the southwest. By linking air traffic, the motorway and long-distance and regional traffic with a trade fair and congress location, the attractiveness of the location for business contacts will be considerably enhanced and enlarged. Stuttgart Airport City can be reached from Frankfurt, Strasbourg, Augsburg, Munich and Zurich in 60 to 90 minutes by rail.
Other studies show that the entire region will benefit from this development. Is that how you see it?
Tobias Koch: That's absolutely right. In this way, an entire region will be further strengthened. It is already at very high level economically, but there is still a great deal of potential for growth and development and it will - or must - continue to develop sectorally. That, too, is one of the findings of our study. Almost a quarter of the people who move within Germany or immigrate to Germany opt for a city on the technology axis. This is a clear indication of how dynamic, desirable and attractive this region is for the workforce.
For which industries is this location particularly attractive?
Tobias Koch: There are business activities that depend more on an efficient infrastructure than other industries. These include research and development, engineering services as well as consulting and business-related services which encourage increased interraction between companies and locations. Companies such as Siemens in Munich and Bosch in Stuttgart will work closer with their development centers. The same applies to science, which is becoming increasingly networked because not every university can afford an expensive special research laboratory. With shorter distances and faster travel times, there will be concentration processes along the axis, also in the direction of Switzerland and France. This effect can be observed with IT specialists, for example, who are mainly concentrated in large development centers such as SAP in Walldorf or Microsoft in Munich, but are not spread across the area. The expansion of infrastructure will be accompanied by an enormous boost for the large centers. 
Who will benefit most from the more powerful infrastructure and shorter travel times along the corridor?
Tobias Koch: Experience shows that the big cities benefit the most, in this case Munich, Stuttgart and Karlsruhe. However, this does not rule out that smaller cities such as Ulm, Augsburg Tübingen and other second-tier cities will not make huge leaps in development. Ulm in particular will gain enormously simply because of its better connection to Stuttgart Airport. In the meantime, the city has acquired a name for itself as a center of science, but it is not autonomous in this respect. Here, too, the topic of alliances is becoming increasingly important as is cooperation with the universities in Stuttgart, Tübingen and elsewhere. In this context, the former president of Ulm University, Professor Joachim Ebeling, recently created the acronym KASULAM. This stands for Karlsruhe, Stuttgart, Ulm, Augsburg and Munich and shows the direction of thinking and the diverse and multifaceted ways that the cities along the axis can benefit from better infrastructure.
Are there comparable technology regions like the axis between Stuttgart and Munich?
Tobias Koch: Not in Germany, nor in Europe. Baden-Württemberg was ranked first in a comparison of all regions in Europe. Bavaria with its state capital Munich is directly after that followed by the greater Paris area, Stockholm, Berlin and Milan. Baden-Württemberg and Bavaria are the leading technology areas in Europe; that's what makes the southern axis so significant and the expansion of the Paris-Bratislava main road so important. Not to forget Switzerland, which has close economic ties with Baden-Württemberg.
Have you ever taken the train from Paris to Bratislava? 
Tobias Koch: Hardly anyone takes the train from Paris to Bratislava, there are planes for such distances. The effect of the improved traffic axis unfolds primarily segmentially, i.e. between Stuttgart and Munich, Ulm and Stuttgart, Munich and Karlsruhe. However, it is important that there are uniform quality standards in rail transport and that these are met throughout the entire corridor. In addition, more and more companies from abroad, such as Switzerland or France, have their headquarters in Germany and naturally choose efficient and strategically favourable locations. A well-developed technological axis has an enormous magnetic effect.
INFO BOX
Tobias Koch:
Graduate engineer Tobias Koch (born 1976) heads the Stuttgart office of Prognos AG. As a regional economist, he is an expert in the field of strategic development for business locations, operational location planning and real estate development. His work focuses particularly on the future-oriented analysis of regional markets and the evaluation and monitoring of location and investment decisions.
Study:
The Prognos study was commissioned by IHK Schwaben and Städtebund-Inn-Salzach GmbH. The districts of Altötting and Mühldorf a. Inn as well as the Wirtschaftsförderungsgesellschaft Burghausen mbH were also involved as project partners. In February 2014, the economic significance of the previous trans-European corridor from Karlsruhe via Stuttgart, Ulm, Augsburg, Munich and Mühldorf to Freilassing was examined. 9.65 million people (almost twelve percent of Germany's population) live in the area of study which includes 41 rural districts and independent towns in Baden-Württemberg and Bavaria. The analysis of the findings indicate that the corridor, with its large number of specialized industry leaders and high value added, comprises one of the leading economic and export regions in Germany and contributes significantly to nationwide tax revenues. In addition, the results illustrate the outstanding and leading position the area enjoys as a location for technology and research.
The company:
Based in Basel, Prognos AG has been advising decision-makers from politics, business and society on a variety of future-oriented issues since 1959, spanning the fields of business & labour, location & region, society & government and energy & climate protection. One of the focal points is infrastructure and transport. The enterprise, which maintains locations in Stuttgart, Freiburg, Munich, Duesseldorf, Brussels, Bremen and Berlin, has carried out more than 200 traffic analyses, forecasts and infrastructure consultations over the past ten years. The customer base includes clients from politics and administration at the local, regional, national and international level, manufacturing, trade and service companies, the transport sector, the construction industry and financial institutions.
---
This might also interest you